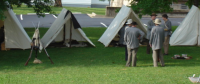 On June 2, Phelps County celebrated its sesquicentennial—its 150th anniversary. Among the celebratory events was a group of Civil War reenactors portraying Union troops from St. Louis. They camped next to the original county courthouse, as Union troops camped here in the 1860s, using the courthouse for a hospital among other things.
How is this event connected with the University and with the Department of English and Technical Communication? The university is located in Phelps County; the department teaches literature of the Civil War period. As an example, here is the first stanza from a poem in Walt Whitman's Drum Taps:
"A sight in camp in the daybreak gray and dim,
"As from my tent I emerge so early sleepless,
"As slow I walk in the cool fresh air the path near by the hospital tent,
"Three forms I see on stretchers lying, brought out there untended lying,
"Over each the blanket spread, ample brownish woolen blanket,
"Gray and heavy blanket, folding, covering all."
Living across the street from the old courthouse, in a house where Union officers were quartered, I'm moved to awaken and find the encampment across the street. An event like this reenactment brings images of the past into the present, just as does Whitman's poem and as a literature class does.