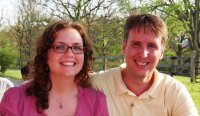 On July 14, John Lemmerman and Laura Bettison were married at her parents' St. James home. John is a Lecturer in English and Technical Communication. Laura is originally from St. Louis; now, she works and takes classes at Drury University in Rolla.
John and Laura each have livestock — specifically, she had two goats when they married, and he had eight. (At one time, Laura had 100 goats!) They have merged their goat herds in Belle, where they have some extensive acreage.
In a somewhat different area of putting two lives together, John says, "Her parents are great, so I lucked out in the in-law department, too."
This poem comes from Korea in the 16th century. I have slightly adapted the last line:
The mountain is silent,
The water without form.
A clear breeze has no price,
The bright moon no owner.
Here, after their fashion,
May you grow old in peace.
— by Song Hon, trans. by Peter H. Lee. The original last line reads "I will grow old in peace." The poem is from Poetry of Asia: Five Millenniums of Verse from Thirty-Three languages, gen. ed. Keith Bosley. New York: Weatherhill, 1979.

The picture is from the department's picnic in May and not the wedding. The poem is a sijo, a classic Korean form. Here's my own very brief definition.