The fall semester has well and truly begun. The first wave of student questions and dilemmas is over. (That first wave ranges from trying to find a classroom to trying to get into a class to finding an instructor.) For all that the university has over 1200 new freshman, there were fewer problems of this kind this fall.
Now that enrollment and class schedules have pretty well settled down, faculty, students, and staff can take stock and focus fully on the tasks of teaching, learning, and facilitating. The Department of English and Technical Communication sponsored a "Welcome Back" reception on Tuesday, August 28. Students and faculty from several departments mingled and ate goodies.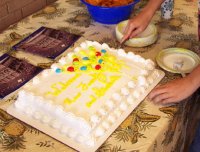 In this photo, Erin Cotita, English major and department student assistant, prepares to cut the cake for serving.
The reception ran from 1:00 to 2:30; those attending did more than eat, as shown in this photo of students (Irangi, Li and Tommy) talking with Professor Emeritus, Nick Knight, and parent, Glenn Cotita.


Together with the break in the heat we're experiencing (highs of 85 F are much more pleasant than highs of 105 F) and the relatively smooth start of a new semester, this reception put, so to speak, the icing on the cake. (Or the dip on the crudités. if you will.)