Beginning with the fall 2007 semester, Dr. Kris Swenson and Dr. Ed Malone, will each add a new role to their responsibilities in the Department of English and Technical Communication. As the number of students increases, managing the courses they take becomes more complex. The department itself is changing in response to changes in the student body and to changes in the campus. In addition, our BS and MS degrees in Technical Communication are not quite two years old: these programs need attention and effort to develop most effectively.
As Coordinator of Writing Courses, Dr. Swenson will oversee the Department's English 20 (Exposition and Argumentation) and English 60 (Writing and Research). English 20 is "freshman comp," an important course taken by almost all incoming freshman. Her duties also include working with the faculty teaching these courses and coordinating policies and practices for the courses.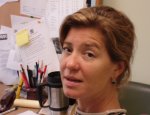 Dr. Kris Swenson

As Director of Technical Communication, Dr. Malone will work extensively with the graduate students on issues ranging from admission to keeping statistics on their test scores. Dr. Malone will also aid in recruiting both undergraduate and graduate students for the technical communication programs.
Dr. Ed Malone
For my part as chair, I welcome these new roles for Dr. Swenson and Dr. Malone. The department will function more effectively because of their contributions. Thanks are due the Provost, Dr. W. Kent Wray, and the Chancellor, Dr. Jack Carney, for making these new roles possible.