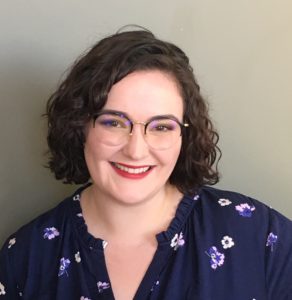 The Discovery Center of Springfield is happy to announce Jennifer Collins as their new Marketing & Advancement Director.
"I'm excited to continue with the Discovery Center on this new chapter. While working at the Discovery Center, you hear the wealth of stories from teachers and families on how we're changing the lives of children across southwest Missouri. The impact area of the Discovery Center reaches further than Springfield—we're teaching in rural schools that otherwise would not have access to the technology and STEM resources needed to help these students excel. I am honored and thrilled to share these stories with the public and join this amazing team on our next chapter."
Jennifer started her career at the Discovery Center as a Graphic Design Intern while completing her master's degree in Rhetoric & Composition from Missouri State University. From there, she was hired in the Marketing Department as the Education & Marketing Coordinator to serve as the bridge between the two departments. Jennifer also served as the Interim Marketing Director during the Center's time of transition to the new Executive Director, Rob Blevins. Now as the Marketing & Advancement Director, Jennifer will spearhead marketing and fundraising efforts for the Discovery Center.
She comes to the Discovery Center with an extensive background in both marketing and education, having taught English to nontraditional and nonnative English learners at Missouri State after completing her Bachelor of Science in Technical Communication from Missouri Science and Technology in Rolla, Missouri. While at the Discovery Center, Jennifer has increased fundraising revenue with her end of calendar year campaigns, Give Ozarks Day, and the Center's annual Night at the Museum as well as grown the department's internship program to provide hands-on learning to marketing, graphic design, and photojournalism students. Jennifer has also been an active writer for Ozarks Living Magazine and has been nominated for the Springfield Business Journal's Top Local Sales/Marketing award for 2018.
"Having someone like Jennifer to share your story is every nonprofit's dream," said Rob Blevins, Executive Director. "She is incredibly passionate about our mission, and she makes it her mission that all of the Ozarks knows about the important work we're doing here at the Discovery Center. This next chapter is going to be one you'll want to read about, and, thanks to Jennifer, you won't be able to miss it."
Discovery Center of Springfield is an interactive, hands-on science museum committed to inspiring people of all ages with a life-long love of learning and an appreciation for the world and our place in it.
###
For more information contact: Rob Blevins, Executive Director (417) 862-9910 or rblevins@discoverycenter.org